SMART Transit is a community partner dedicated to providing sustainable, affordable, reliable and accessible public transportation to Moscow and the region.
Board of Directors
RPT is governed by a volunteer board of directors.
Board Members
President
Rebecca Couch
Elected 2020
Vice President 
Hailey Lewis
Elected 2022
Secretary
James (JR) Luper
Elected 2009
Treasurer
Wayne Krauss
Elected 2011
Members
Hailey Lewis
Elected 2022
Gene Guilfoy
Elected 2010
Larry Clott
Elected 2011
Kyle Steele
Elected 2021
Lauren Young
UI Student Representative
Tom Lamar
Elected 2023
Sarah Tucker
Elected 2023
Executive Director – Andie Severson
Assistant Director – Tara LeGresley
Headquarters
SMART Transit is headquartered in the Moscow Intermodal Transit Center (ITC) adjacent to the University of Idaho campus.
The building is a hub for multiple modes of transportation within the city:
SMART Transit
University of Idaho Parking and Transporation Services
Intercity bus service: The ITC offers a ticket window and serves as a connection hub.
Bicycles and pedestrians: The building sits at the trailhead of Paradise Path, which connects the university and downtown Moscow.
Artistry for us all
Through the City of Moscow Arts Department, local artists transform bus shelters into spectacular etched glass designs.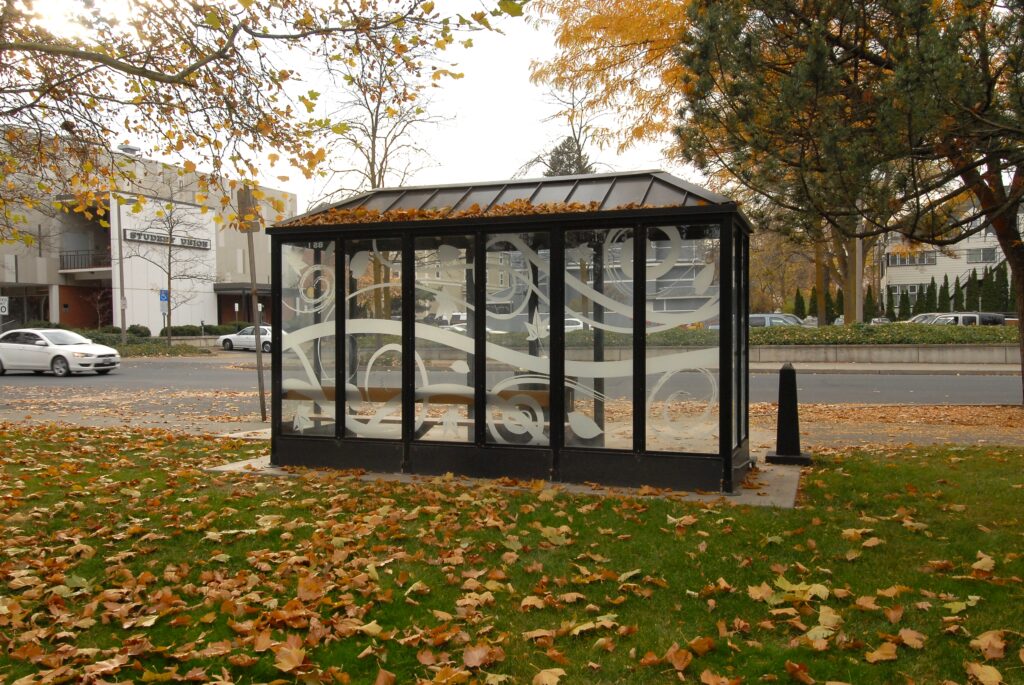 What's in a name?
The name "SMART Transit" stands for Sustainable Moscow Area Regional Transportation.
It was the winning entry in a 2012 naming contest hosted by the City of Moscow. The name, submitted by Moscow resident Ron Crumley, was chosen from more than 100 entries.
Regional Public Transportation, Inc. (RPT) is the official name of the organization.
RPT operates under the "doing business" name of SMART Transit.
SMART Transit was formerly known as Valley Transit and Moscow Valley Transit.
The current name and logo debuted in 2012.
History
SMART Transit currently provides demand-response and fixed-route transportation in Moscow, Idaho. Here's the route it took to become the transportation provider that it is today.
1993
SMART Transit is founded. It provides public transportation services in Lewiston, Idaho, primarily demand-response service for seniors and individuals with disabilities. The fleet of vehicles consists of just a few ambulatory vans and lift-equipped vans.
SMART Transit expands into Moscow, Idaho. It provides demand response service to the community.
2003
Fixed-route service begins in Lewiston, Clarkston, and Asotin. SMART Transit inks contracts with the City of Lewiston, Asotin County, and Asotin County Public Transportation Benefit Area (PTBA) to provide the service. Three routes span the Lewis-Clark Valley, where there had been no bus service since the 1960s.
The service is backed by a grant from the U.S. Department of Housing and Urban Development. SMART Transit had applied for the grant in cooperation with Asotin County Housing Authority and other regional partners.
2004
Fixed-route service debuts in Moscow. The University of Idaho and the City of Moscow team up with SMART Transit to create the new service. Two fixed routes connect the east and west parts of Moscow to the downtown core and the U of I campus.
2009
Contracts with both the City of Lewiston and the Asotin County PTBA end. SMART Transit discontinues service in those communities.
2012
The Moscow Intermodal Transit Center (ITC) is completed. The City of Moscow developed the ITC in partnership with the University of Idaho.
2013
Moscow's fixed route service reaches its one millionth ride. The Moscow fixed routes had double digit growth in ridership every year through 2012.